Old Traditions With New Ideas
The USCDKA offers a comprehensive curriculum and highly experienced instructors who are passionate about teaching taekwondo. Their commitment to excellence has resulted in numerous champions at national and international levels.
why CHOOSE
U.S. Chung Do Kwan Association
The United States Chung Do Kwan Association (USCDKA) is an excellent choice for anyone looking to practice and learn taekwondo. With a rich history dating back to the founding of Chung Do Kwan in Korea in 1944, the USCDKA is dedicated to promoting and preserving the traditional values and techniques of taekwondo. We prioritize safety, respect, and discipline in your training, making it a great option for individuals of all ages and skill levels. 
The USCDKA offers a comprehensive curriculum and highly experienced instructors who are passionate about teaching taekwondo. Our commitment to excellence has resulted in numerous champions at national and international levels. Choosing the USCDKA means joining a family of martial artists who share a common goal of self-improvement through taekwondo.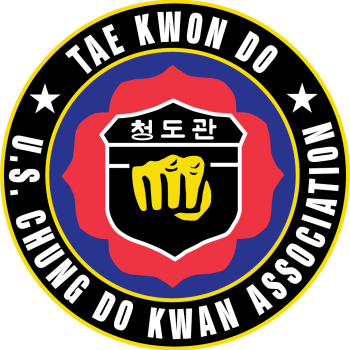 "I was bullied as a kid and took Taekwondo to learn how to fight back. By the time I was capable of fighting back, I had learned that I needed to let my anger go, not let it grow.
I have learned to protect myself and my loved ones, I have learned more about myself, my faith, and even my family. I have gained a new family, through the US Chung Do Kwan Association, a family that I am always excited to see. My self-confidence has grown, as I have been promoted through the student, black belt, and master ranks. I can honestly say, most of my life's lessons are lessons I got on the training floor.
Taekwondo is a very physical art, but it is also incredibly mental, as well as spiritual. Taekwondo with the USCDKA strengthens the whole man, mind, body, and spirit."
Master Christopher Courington
"The curriculum is genuine, authentic, and commands the deep respect throughout the world of accredited Taekwondo." I am grateful for the opportunities and growth I have experienced in this, the finest of Taekwondo associations.
The USCDKA is a family, a community, and an association that genuinely and deeply cares about its members. The focus is on helping individuals to be a success in life and taekwondo is the vehicle through which this is promoted. Being a valued member of this family and community has been a wonderful experience for me!
Master/Ph.D. Larry E. Hazelbaker
"The FAMILY that KICKS TOGETHER STICKS TOGETHER! It is hard for me to remember my life before Taekwondo. If I try real hard I could probably do it; but who wants to do that? My wife and children and I are all black belts in Taekwondo. It has helped bring our family closer. There is no secret formula or special recipe as to why. It is simply our love for the art that we share. We have common goals, a common interest and people look to us as leaders because of the Black Belt around our waist. We constantly teach in our schools that we can help your child get:
better grades in school
behave better at home
be respectful to others around them
Taekwondo has helped me to realize that everyone can definitely do more. These expectations were taught to me by my Instructors. I know now that through Taekwondo I can set my goals even higher than I ever dreamed possible. You too can do the same. Never stop reaching for the stars."
The United States Chung Do Kwan Association (USCDKA) is a one stop shop in the industry of martial arts and, it doesn't stop there! It's safe to say the USCDKA is an elite organization in the teaching philosophy to the art, science and sport of Taekwondo. The key ingredient that sets the USCDKA apart from other organizations is the attention to meeting the needs of its members on a tri-level. This is reflected in the motto: To give strength to the weak, confidence to the timid and spiritual guidance to those who seek after God.
I have become an effective leader not only in my pursuit as a master instructor of taekwondo but in every aspect of my life. I have been a member of the USCDKA for over 21 years (since 1988) and speak with knowledge of its history when I say, "This is a one of a kind association!" It's living, breathing and consistently growing while holding fast to integrity of its foundation. It's more than the USCDKA, its family!
I have been involved with several other martial arts organizations, and I can honestly say the USCDKA is the best Tae Kwon Do organization in the world.
Sr. Grandmaster Sell personally uses TLC as she brings a new school owner aboard. I personally have found myself to immediately embrace the values and benefits of the USCDKA as I became part of the national Taekwondo "family".
I know that everyone finds the USCDKA to be composed of high integrity people with a love for Tae Kwon Do, a love of teaching and a love for seeing our students (and ourselves) excel.
The USCDKA network can help you make your school the best it can be. I encourage all new members to make full use of that network along with local and national USCDKA events.
Grandmaster Raymond DeVito
Meet
Sr. Grandmaster Brenda Sell
Brenda J. Sell has spent a lifetime in the pursuit and promotion of Taekwondo. She began her training at age 14 in Michigan, USA. There she realized her love for the sport. Within two years, she was awarded her 1stDan. Since then, Brenda J. Sell has been a professional teacher of taekwondo, an accomplished tournament competitor, an international referee, a Taekwondo performer, an ordained minister, President and Kwan Jang of the U.S. Chung Do Kwan Association. Brenda J. Sell has been teaching Taekwondo for more than 47 years. She taught initially, as an instructor at Grandmaster Edward B. Sell's school in Michigan, to providing training in Taekwondo seminars and conferences in schools and cities throughout the United States.
National Championships will take place in Orlando, FL at the DoubleTree by Hilton Hotel Orlando at SeaWorld